What to put in your diaper bag?
2018-01-25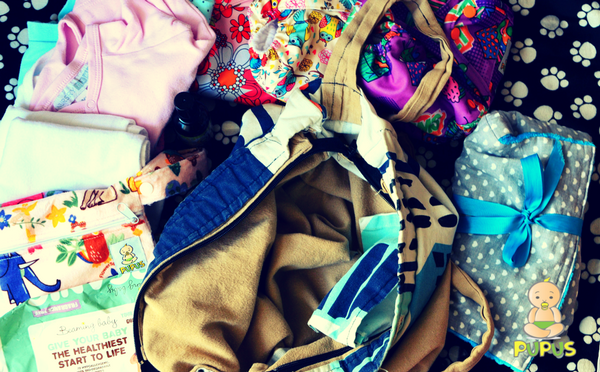 There are many reasons to go out with a baby: sometimes you have to go to see a doctor; sometimes it's time to see your family and friends; sometimes it's time for a daily walk. Purposes are different, but they have one thing in common. You have to take your diaper bag.

Leaving your house in a way is a challenge, not a big one but still and you have to prepare well for it. You should try to predict all possible events and with this knowledge, prepare your diaper bag.

Prediction is the key
I remember the time when I went out with my first child, I packed a lot of things in my bag. Way too much. With second child I already had some experience and my diaper bag was smaller. I filled it only with things that were necessary.

When I leave the house with a baby, it is crucial to predict how much time I will spend outside. I usually count it in hours. If my departure and return home closes within 1 hour - I do not take my diaper bag at all. I need a diaper bag if I go for at least 2 hours. Of course - there are exceptions here, for example, a visit to a doctor. Even if it lasts just for a short while, I still need a diaper for a change, a terry diaper, etc.




What to put in your diaper eco-bag?

Bag
I sew mine by myself. It's like an eco-sack, roomy, without any pockets in it. It is a typical shoulder bag. For me, it's the most comfortable solution since most of the time I use a wrap. The bag which you hang on the baby cart will be slightly different. I recommend sewing your own diaper bag. It's a pretty cheap solution and in the spirit of zero-waste, if you use unnecessary materials available at home.

Diaper change
The main contents of the bag are the things you'll need to change a diaper.

What kind of cloth diaper should I put in my diaper bag?

It depends on your personal preferences. Some mums prefer covers, other pockets. I usually followed the criterion of convenience (pocket) and absorbency. I tried to always choose the most-absorbent insert. When you are outside, you cannot always be sure when there will be another opportunity to change a diaper, so the most absorbent insert is the best solution.




How many diapers?

Think how long you'll be out, take one diaper for every 90 minutes and add 2 extra diapers. Very often I have this situation, that just a short time after changing a diaper, I have to change it again. Without the extra 2, I would be in smelly trouble, so I always take those.

Storing used diapers
I recommend putting into diaper bag a reusable diaper bag made of waterproof PUL or minky material. This bag is great. You can wash it if it gets dirty. In addition, if we have stained or wet clothes, we can also carry them in it. Also, the bag is very nice and never lets any smells out.

Something to put your baby on when you change diaper
I always take a waterproof mat with me. When we are on a trip, and it is warm, the mat works well on the grass.
When I change the diaper, I usually put my baby on a flat cotton or flannel diaper. Babies often pee during changing, so I protect the mat a little from getting wet.




How should I wash the bum?
Reusable baby wipes
If we choose a reusable option - we can prepare wet wipes ourselves at home. Alternatively, we take reusable wipes and a bottle of water, or home-made wipe solution, and spray wipes while changing a diaper.

Baby wipes
If we choose wet wipes, I definitely recommend Beaming Baby Wipes. Their advantage is biodegradability and non-allergic ingredients.

Flushable diaper liners
When you change diaper away from home, there is always a problem, what to do with the poop. There are two solutions: either you throw it away immediately, or after you arrive at home. When you choose the first option, it's perfect, but not always possible. The baby's poop is often liquid and to remove it from the diaper you have to wash the diaper. When you choose the second one, put the soiled diaper in a bag and get rid of the poop at home. In both cases, flushable and biodegradable diaper liner is extremely helpful. They definitely make it easier to catch poop.

Spare clothes
Nappies sometimes leak. Sometimes the child will pee during changing. It is good to have spare clothes in your bag. How many? It all depends on the time spent outside. I usually take 1-3 sets of clothes, depending for how long I predict to go out.




Feeding
A very important matter for the infant. If we breastfeed - it is relatively simple. We always have milk with us already heated to a good temperature. However due to the leaking milk from my breast, I usually put an extra pair of reusable breast pads into my bag. Also a cotton or flannel flat diaper is useful to cover myself in a public place.

If the child has an extended diet - we pack an additional meal in the bag. Also remember to add something to wipe the face after eating. A bigger bib will also come in handy in order to cover baby's cloths.

Something extra
Books, toys, ... Something extra can always fall into your diaper bag. But I need to admit that whenever I took extra toys, I only carried them with me. What was new and unknown was much more interesting for my children.

This is my suggestion what to pack in the diaper bag. What is yours?