Cloth-diapering a newborn baby
2018-01-05
It's our third baby in the family. For the last month I've been testing, checking... simply using cloth diapers. Although I did cloth-diapered my two other kids, it's the first time I use clothes with a newborn. It's definitely something new for me. 

Our daughter finally at home


A newborn does pee a lot. Like - really a lot! You can see that her little body isn't mature yet: the urine is watery and her bladder is so tiny - just like it's little owner. A newborn also poops a lot, practically every time I change her diaper. And sometimes even more often! I'm sure you know it - the baby is in her new diaper, a minute passes and there goes the characteristic sound inside the diaper. And you need to change her again. The entire newborn-period is like changing, feeding, sleeping (of the baby, not of me of course!). In the first few weeks the diaper needs to be changed at least 9-12 times a day. Plus the nights. Fortunately my baby sleeps pretty well at nights, with only one wake-up for breast feeding. 

Our newborn diaper stash


Newborn plus flat cotton diapers
I started cloth-diapering with using diaper covers and flat terry diapers. Covers, as long as they are not soiled or wet, can be used a few times. All you need to do is to change the insert. Flat cotton diapers are absorbent and dry real quickly. I fold it in a rectangle shape, which was the fastest for me. 

How did it work? Flats are really absorbent. The diaper never leaked. However I did change diapers regularly: usually before feeding, which was often every hour or two. That's what you do with a newborn :) The diaper cover fitted very well. Double gussets did a great job and everything inside the diaper. 

Both covers and flats dry very quickly. After washing everything in the evening I had everything dry and ready to use in the morning. It's a great advantage!

Covers plus flats were a great solution when it comes to absorbency and diapering during the day. It is also the cheapest way to use cloths. 
The drawback of this solution is that the baby has quite a lot of material between her legs - flats are quite "fluffy" when folded.
Diaper cover plus inserts

Newborn
diaper inserts are much easier to use than flats. First of all - you don't need to fold them. You just put them inside the cover and that's it. Secondly, microfiber and bamboo inserts have microfleece on one side which keeps your baby's skin dry - it's a very practical solution, gives her more comfort and it makes it easier to clean the insert. My favorite insert turned out to be the bamboo charcoal. It is very absorbent, doesn't leak and dries quickly (within a few hours).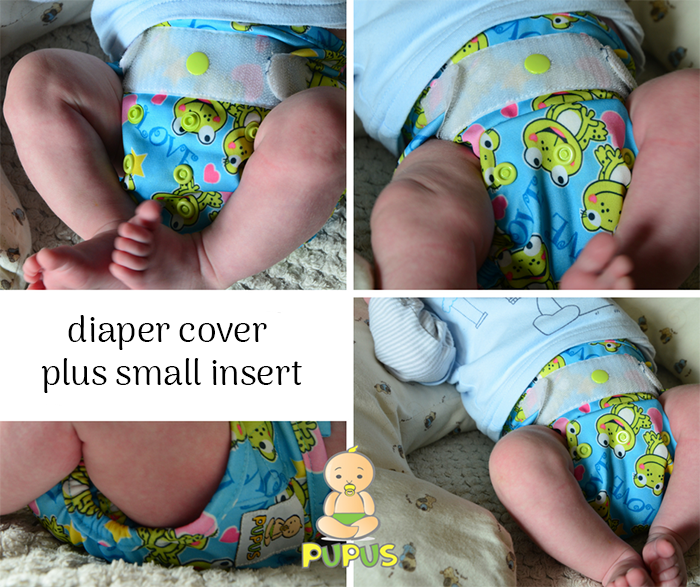 The hemp prefold insert is the most absorbent one, however, consequently, it takes a long time for it to dry - unless you put in on a heater or hang it outside on a sunny day. It was perfect for longer naps and going for a walk. 


Bamboo fitted diaper turned out to be number one for nights. It fits perfectly and is very absorbent. Of course it also dries a bit longer than standard inserts, but it's worth using anyway. 



Snaps or velcro fastening?
I have to admit that at first I preferred the velcro diaper cover. It's a fact that I'm used to this type of fastening. However I was annoyed that I often forgot about securing the velcro for washing. In effect, the velcro often caught on inserts and other covers. But later I changed my mind - it is much faster to change a diaper with velcro fastening - and sometimes you know you need to do it really quickly. Besides, velcro has more possibilities to regulate the size of the diaper. I just need to remember about securing my velcros for washing :)




Double gussets around legs

A great advantage of Pupus diaper covers are double gussets. This solution makes diapers practically leak-proof. 

Pocket diapers
I'm a much bigger fan of pockets than diaper covers. Pockets are easy to put on and off. And as I preferred to use them with my two previous children, it was the same this time. 
The best inserts in my case were: bamboo charcoal, microfiber and bamboo prefold. When I needed to, I used a thin booster (another thin insert) and the diaper could be used longer.
I didn't like the pocket+flat terry combination. Flats need to be folded and it's quite difficult to place them inside a little diaper. Besides flats weren't as absorbent as my favorite bamboo charcoal insert. 

The disadvantage of pocket diapers is that they need to be washed after every diaper change (unlike diaper covers). I know that some moms change the insert only, but with a newborn it's pretty impossible, as the baby poops so many times a day. 


Pockets are my favorite solution for daytime. 

Corn liners

Corn liners did a good job. They made it easier to clean soiled diaper. I do think it's worth having them. They make using cloth diapers so much easier! 

Small inserts
Inserts dedicated for the newborn diapers are a must-have. First of all - they fit pockets and covers perfectly. They're not too long or too wide. Secondly, they have an additional layer of microfleece on one side which will give your baby extra comfort as this fabric keeps her skin dry. 

My baby is not a newborn anymore - she's 3 months old. We're still using the newborn diapers and slowly introducing my favorite one-size pockets and covers...
Recommended
1,87 GBP

incl. VAT
200

pts.
2,62 GBP

incl. VAT
280

pts.