Natural Care of Baby's Bum
2017-10-13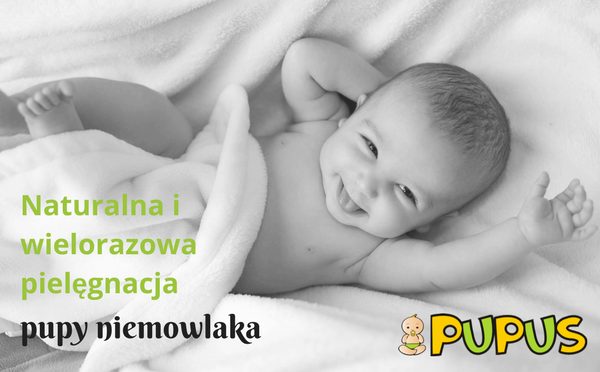 I guess we don't need to mention that we encourage you to use cloths diapers? :)
When we put together a layette for the hospital, we are kind of obliged to supply disposable items: nappies and so-called. wet handkerchiefs. Comfortable, fragrant ... We acquire habit to use them. Meanwhile - at home it is not necessary, but only generates costs and production of unnecessary garbage.
What are other options to take care of baby's bum?
How to naturally take care of baby's skin under the diaper? A short guide.
Basic care
Let's start with the basic activity - washing the baby's delicate bum. You can do it with plain water. In most cases, washing with water is perfectly enough to keep the baby's skin clean, free of any harmful residues. When we have a newborn baby - especially with a girl, you can do it with boiled water. However, it is not necessary (unless the doctor or midwife recommend it otherwise). I washed the baby's bottom in 2 ways:
Under running water: in the sink under the tap; here's the point - you need to be sure of the water temperature! It is always best to keep your hand under the tap all the time - sometimes water's temperature can suddenly change.

On the changing table, using small towels or reusable cloth wipes. As for the wipes - in the Pupus shop they are offered in 2 sizes: larger and smaller. They are soft and dry quickly. And in addition - bacteria and fungi do not multiply on bamboo.
Taking care of bum with skin problems
If the skin is red or with a rash, you can wash the bum with water with the addition of potato flour. It soothes redness and leaves a thin layer on the protective film. Usually, when using starch the bum quickly returns to normal. When your baby has any kind of diaper rash, you shouldn't use disposable wipes. Paradoxically - they often may actually cause these problems.
How can I help my baby with diaper rash?
I heartily recommend 2 things. For me, coconut oil turned out to be very effective, efficient and helpful. Really - unrefined coconut oil quickly soothes red and protects the bottom properly against new ones.
Secondly, you can either use ready-made diaper rash cream - or make it by yourself, at home. Soon we will publish our favorite recipe, for the moment, please google it :)
Washing baby's bum away from home
You can either wet a few cloth wipes and put them in a plastic bag or a small box; or you can simply take disposable wipes. However it is worth taking those with no artificial additives, like aromas or preservatives. In our shop you can find Beaming Baby wipes, which are also biodegradable!
Recommended

2,19 EUR

incl. VAT
198

pts.

6,42 EUR

incl. VAT
580

pts.