Our fabrics for cloth diapers
2020-06-08
Names such as microfleece, coolmax sound mysterious for hose at  the beginning of their cloth-diaper adventure . Over time, we start to get acquainted with strange names, we start to know what is what, our preferences are being determined ... For sure, many of us have found ourselves in a situation where at the beginning something impresses with its pattern, and then at the first closer contact the whole spell breaks, the material turns out to be rough, uncomfortable ... simply not cooperative. But not with us! For a year, i.e. from the moment we switched to fully Polish production, we have been making every effort to ensure that our materials are distinguished by exceptional class and quality. All of them have quality certificates such as "child safe" or Oeko-Tex (a registered trademark awarded by the International Association for Research and Testing in the Field of Ecology, Textiles and Leather). It's finally time to present all our fabrics to you one by one! After a year of fruitful cooperation, they fully deserved it.

TERRY BAMBOO "LAMB" – you touch it and you immediately want to put your cheek against it. Soft, delicate. 330g / m2. Most importantly - after many washes it still remains just as nice and cozy. Unbleached (produced without the chlorination process) Terry Lamb - is one our most popular fabrics. Composition: bamboo viscose 80%, polyester 20%. You will find it in the day fitted diapers, long "lamb" inserts, short bamboo inserts as well as make-up removal pads, sanitary pads, nursing pads

NATURAL BAMBOO TERRY - similar to "Lamb", but without polyester. It means that it will be more absorbent, but a little less delicate. Composition: bamboo viscose 80%, cotton 20%. Perfect for babies who don't tolerate artificial fabrics and for those who pee a lot! It's best feature is high absorbency. We use it for night fitted diapers, long inserts, prefolds and EVO inserts.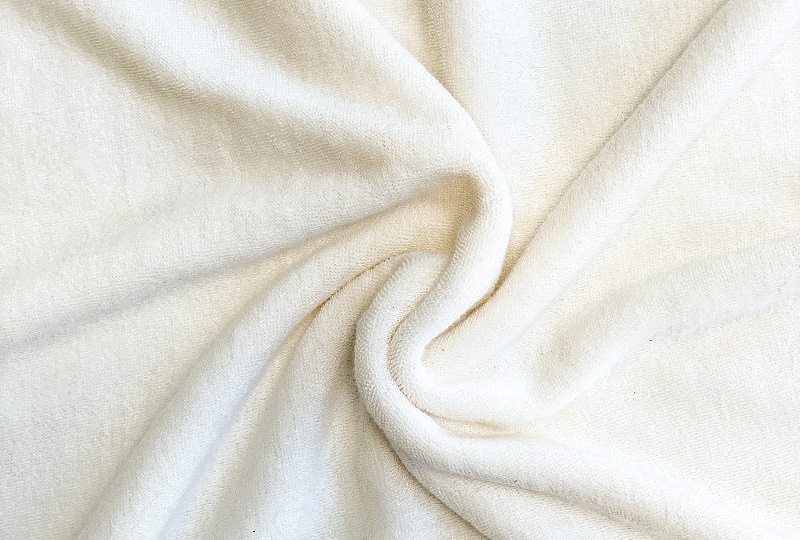 MICROFLEECE – it's greatest advantage is very effective moisture management, which means the baby will not feel any moisture and her skin will remain dry. This is why we use it for "dry bum" inserts as well the inside of pocket diapers. Very soft and durable.




COOLMAX – perfect for the summer, delicate, breathable, quick-dry. In our shop you'll find pocket diapers and training pants with coolmax inside. Because of its soothing and cooling properties, it is also perfect for breast pads.




MICROFIBER- first of all: microfiber is not expensive. Also it dries quickly, but it is at the same time less absorbent than natural inserts. Recommended when you want to change diaper often. It shouldn't be put directly against baby's skin, there should always be something in between them (for example 'dry bum" or you can just put it inside a pocket diaper). 




COTTON – it's one of the nicest fabrics, with versatile use. It is the same cotton which is used for baby's clothes. It's unbleached, no chlorine is used for production. Natural like every child. We use it for the inside of training pants, pocket diapers, breast pads, AIO.



COTTON GAUZE – this is the "grandma" of cloth-diapering, but still indispensable! A few years ago, when parents started using cloth diapers again, the cotton gauze came back to favor. Skilled parents can fold it into different shapes almost like origami ;) But if you're not feeling up to it, you can simply fold it into a rectangle. What's important, the edges of our cotton gauze are flat, so it is easier to fold and more delicate for the baby. 
Cotton gauze also works great with all the activities with baby: burping after breastfeeding, wiping baby's face, changing diaper outside and many more. Our cotton gauze is 140g/m2 and it will shrink around 10% after washing.



PUL - it is the outer, most spectacular and decorative part of the diaper. It is the PUL which proudly presents beautiful prints, it is on it that our dragonflies, dragons and butterflies land with pleasure. No wonder - our pul is, after all, extremely soft and thin. On the outside covered with impregnation, on the inside with an laminate. Double reinforcements - because in diapers durability is as important as their design.
We do not use harmful substances to color our products, you will not find formaldehydes, pesticides or heavy metals there. We are sure that each of our diapers, if only it could, would agree with our slogan: "Discover with us the pleasure of cloth-diapering".