What diapers are best for newborns?
2023-02-14
Our 3rd child has been in the family for a month. And for a month I have been testing, checking, and using reusable diapers. Despite the fact that I have already diapered two older children many times, I have not had any experience with reusable diapers for a newborn baby. This is new to me.

Newborn at home
A newborn baby pees a lot. Really much. You can see that the little body is not yet mature: the urine is not concentrated and the bladder is tiny - just like its owner. A newborn baby poops a lot too. Practically every time I change diaper, there's a tiny poop. And sometimes even more often! Is it the same with you? :) The baby is changed, you move a meter away from the changing table and ... there there is this characteristic sound inside the diaper. And here we are changing the diaper again.
For me life with a newborn is nothing but changing, feeding and sleeping (baby of course, not me). The number of diaper changes ranges from 9 to 12 per day in the early weeks. Plus the night. Fortunately, the baby sleeps quite well at night, with only one wake-up call for feeding. And if she struggles to fall asleep in the evening, she can even sleep all night.
Diaper set for a newborn
My reusable cloth diaper set for a newborn consists of 4 covers, including 2 with a double gussets and 2 with elastic piping, 2 pairs of pull-ups and 2 pockets. Of course, all diapers are in the smallest size - for a newborn. Except for that, we have lots of inserts: a supply of flat cotton diapers and inserts in size S which fit newborn diapers: microfiber, bamboo, prefolds, boosters and two fitted diapers for the night. I'll explain everything in a moment, it just sounds so complicated :)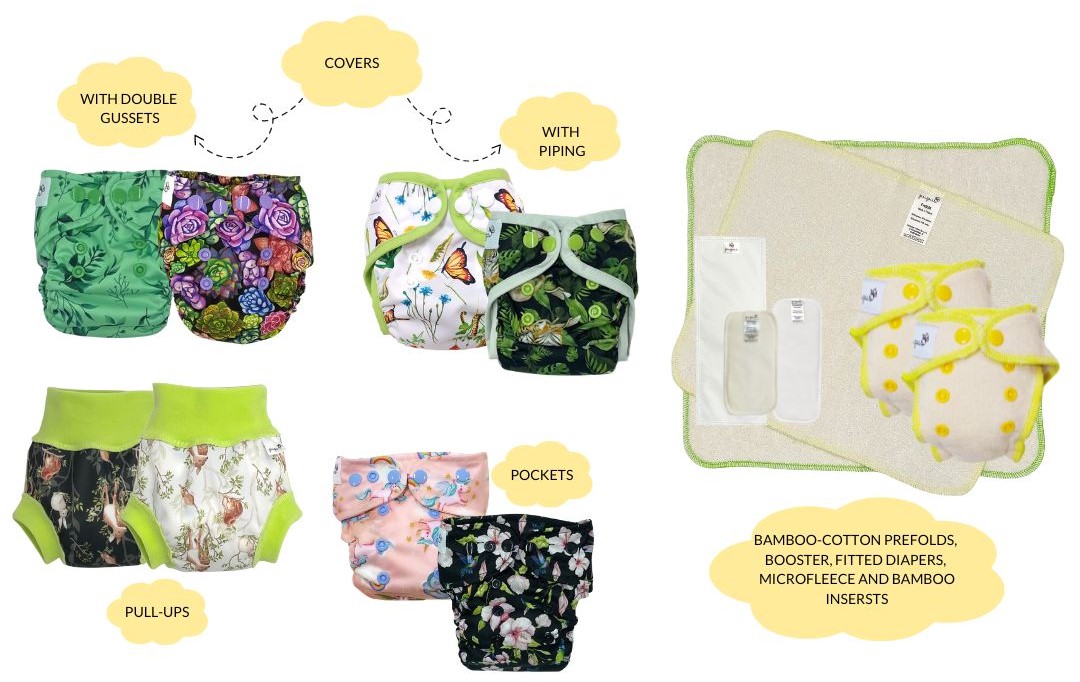 Newborns and covers
Diaper covers plus cotton flats
I started diapering with cotton flats and covers. The covers, as long as they do not get dirty or wet, can be used several times - you can change the insert only. In addition, cotton flats are absorbent and at the same time quick-drying. I fold them into a simple rectangle.
How did this solution work? Flats are absorbent, even very absorbent. My diaper never leaked. Of course, the baby was changed often enough - usually before feeding, i.e. every hour, an hour and a half, sometimes every 2 hours. However, nothing ever leaked. The newborn cover with double gussets passed the leak test. A cover with an elastic piping worked just as well.
The covers and cotton flats dry quickly. After washing in the evening, in the morning I had a dry and ready set. It's a huge advantage!
The flat+cover combination in terms of absorbency worked very well for the day. It is also the cheapest way to use cloth diapers with a newborn.
Minus - the child has a lot of layers between the legs. It's quite thick and clunky.

Cover plus absorbent inserts
Absorbent inserts compared to flats are definitely more comfortable. First of all, you don't have to fold them. We just put it in the cover and that's it. In addition, the microfiber, bamboo and gray inserts have at least one layer of microfleece, which keeps the baby's skin dry. My favorite insert turned out to be short bamboo insert. It is very absorbent and did not leak. It also dries quickly (within a few hours).
The bamboo-cotton prefold is very absorbent. Thanks to the fact that it can be open after washing, it does not take long to dry. I successfully used it for longer naps.
The bamboo fitted diaper turned out to be a real hit at night. It fits great and is absorbent at the same time. It turned out to be our night solution. Of course, this type of diaper also takes a long time to dry (a little over a day), but it is the most absorbent. You still need to put a cover or pull-ups on it - our choice were the pull-ups! They are very comfortable for the child, they do not have any elastics or snaps. It's a little more difficult to put them on, so to make it easier, you can always buy a bigger size.
Double elastic around the legs
A definite advantage of the Pupus cover is its double elastic gussets at the legs. In fact, this solution prevents the diaper from leaking. And I admit that the diapers did not leak!. We had a "poopageddon" a few times and then it leaked a little over the top.
Pocket diapers
I am definitely a bigger fan of pockets than covers. It's easy and fast to put on a pocket diaper. And just as I preferred to use them with my two previous children, so it was this time too. Pockets are my absolute favourites.
With the pockets, we used inserts: a small bamboo insert, a microfiber insert or a bamboo prefold. When I needed it, I added a small or thin additional insert which is called a booster. It makes diapers more absorbent. EVO boosters are perfect for a newborn, because they are very thin, which means they practically do not make the diaper bigger, bulkier.
I didn't like the pocket plus cotton flat combination. The flat needs to be folded properly and is not put into the pocket as quickly as a dedicated absorbent insert. Oh, that's my laziness. In addition - the absorbency of tetra was inferior to the absorbency of my favorite bamboo insert.
The downside of the pockets is the fact that you have to change them every time you change diaper, so you just need to have more of them. That's why I bought two more pockets for my diaper stash.
The pockets worked well during the day.
Small absorbent inserts for a newborn
Inserts dedicated for the smallest diapers work great. First of all - their size corresponds to the size of a diaper. Nothing protrudes neither in length nor in width. In addition - the inserts made of microfiber and bamboo have an additional layer of microfleece, which guarantees the comfort of dryness for the child and eliminates the need to use a dry-bum insert. However, if you do not want to use microfleece (some children are allergic to it), just turn the insert to the other side.
My newborn is now a baby. We still use diapers in the small size - for a newborn. But I am slowly introducing my favorite one-size pockets (my daughter already weighs 4.5 kg).